Stone Soup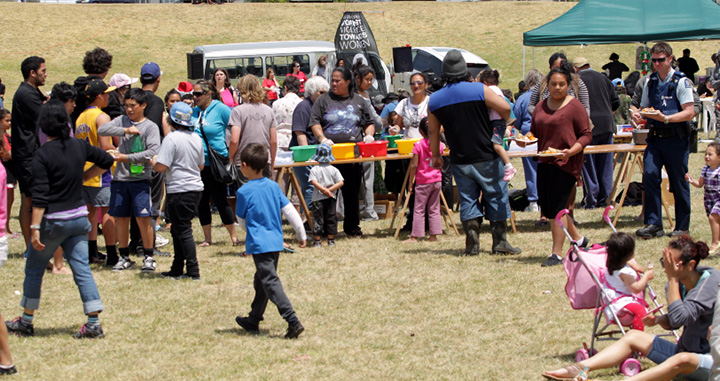 What's the story behind the name 'Stone Soup'?
This story is set in a time of famine. One day a traveller came to a village carrying nothing more than an empty pot. The traveller filled the pot with water, dropped a large stone in it and placed it over a fire in the village square. A villager became curious and asked the traveller what he was doing. The traveller answered "I am making Stone Soup, which tastes wonderful, although it would taste even better if it had a carrot." The villager went home and returned with a carrot which was added to the pot. Another villager passed by and asked the traveller what he was doing and again the traveller explained he was making stone soup. "It tastes wonderful, but it would be even more delicious if it had an onion." The villager went home and soon returned with an onion, which was added to the pot. More and more villagers came to the village square to see what was going on, and each added something to the pot. Finally, the call went out to the whole village "The Stone Soup is ready!"
A community in Whanganui has been sharing Stone Soup together since September 2007. Judy Kumeroa and her team of willing volunteers thought about what they could do to strengthen the community bonds and restore a sense of pride to their suburb. Their response was the community development based Stone Soup that was designed to help build community spirit, strengthen links between neighbours and lead to greater wellbeing for tamariki, rangatahi and whanau. They have worked closely with The Whanganui River Maori Trust Board, Te Oranganui and Housing NZ as well as individuals from the Gonville community. They have facilitated Stone Soup gatherings every couple of months with plenty of food, games, entertainment and the opportunity to interact.
As time has gone by, local people have volunteered and wanted to be part of the project. Members of the Gonville community have contributed food to share and have given generously of their time. The events attract around 350 people at each gathering and have become an important part of the life of the Gonville community.
"We're helping to remove barriers, but the skills come from the community," says Judy Kumeroa of Te Ora Hou. "That's the beauty of it - people are stepping up as they recognise they have something to offer."
The Whanganui Community Foundation is proud to support Stone Soup.